Corporate Governance Virtual Training – 2023
The Corporate Governance Virtual Training covers diverse topics related to Board leadership with an ultimate goal of ensuring that our members and participants are well prepared to join Board leadership.
The simulation incorporates Board members and provides a great opportunity for networking. The cost of the training is Kes 35,000 for members and Kes 45,000 for non members. Register for the upcoming session to learn more
The training also helps the participants understand Boardroom dynamics aimed to have a positive impact on the Boards they get to serve on both at the national and global levels. The training provides a Board Simulation session for the members that allows them to experience a real Boardroom scenario.
Board Profiling and Personal Positioning Workshop – 2023
The modules covered in the workshop are;
Board Expectations

Board Search Criteria

Board Profiling

Board Behavioural Competencies

Board Engagement

Personal Positioning
2023 Calendar
The 1st cohort scheduled on 30st March & 4th April 2023-Done
The 2nd cohort scheduled on 20th and 25th July 2023
The 3rd cohort scheduled on 3rd & 8th November 2023
In seeking a Board position, a winning personal profile is essential. The Women On Boards Network presents an exclusive Board Profiling and Personal Positioning Workshop, facilitated by Tian Pouw TP Pun from Malaysia; Principal/Founder TPPun Advisory and Ex-Principal Korn Ferry.
The workshop's objective is to assess a participant's current Board profile, guide them in drafting a new Board profile and impart personal positioning skills. During the workshop, participants learn in-depth about the competencies that boards are looking for, and how to strategically present oneself to suit these requirements. One also receives personalized critique on their board profile to write one that is more compelling and unique to land a dream Board position.
To facilitate and deepen your learning, participants engage in:-
Drafting a personal board profile.

Examining and critiquing group board profiles .

Receiving personal feedback on a personal board profile from the facilitator.
Global Women on Boards Programme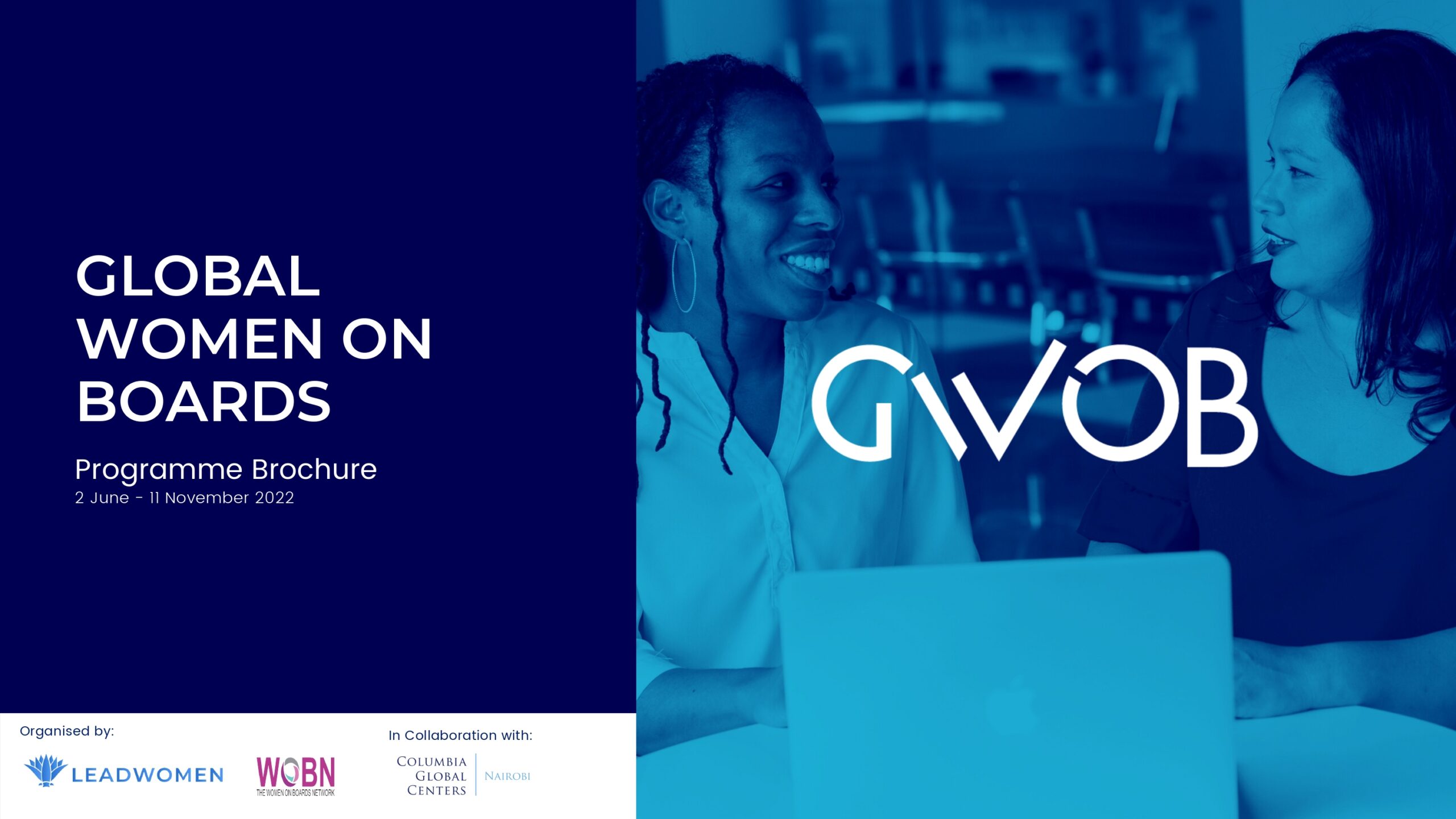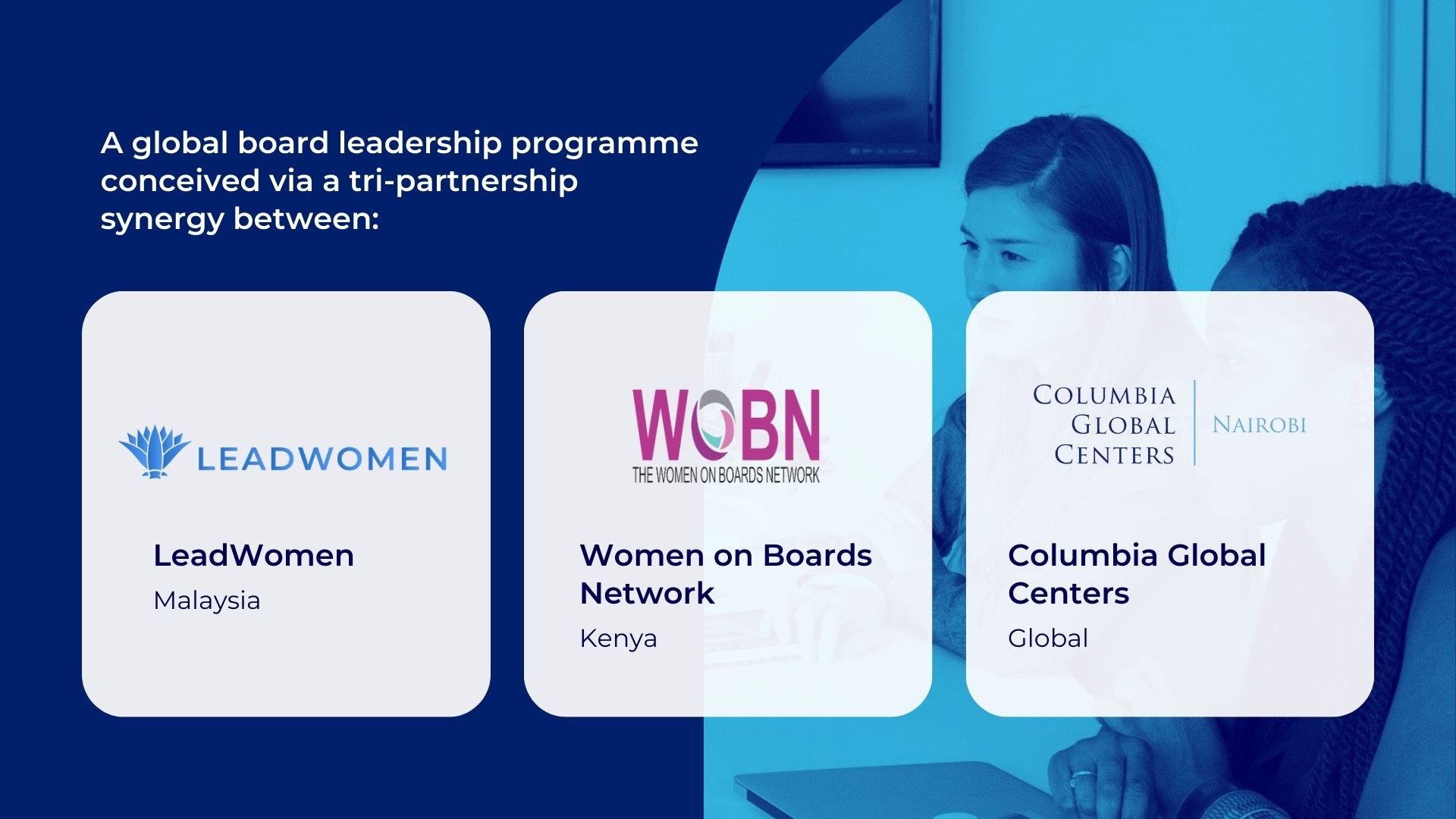 Who should attend ?
Current or Newly appointed corporate board directors
OR
Aspiring board directors;
Senior businesswomen

who hold positions in established companies ranging from division head to CEO or who are retired from such positions.

Women in

senior executive roles

who currently sit on nonprofit or private boards who wish to serve on public corporate boards in any industry.

Established women entrepreneurs

seeking to improve corporate governance in their own company boards and preparing to serve on public corporate boards.
The Global Women on boards GWOB programme is designed to equip new aspiring and existing women directors with the required competencies ,knowledge and safe network platforms to enable them to create unique value and innovation for boards.
The programme is designed to help women understand the skills required of board directors ,gain insights needed to effectively participate on progressive boards and support their search for a seat on a board .
The 6 month programme is a modular journey, taking participants through the essentials of board leadership. Throughout the programme, participants will be guided and supported by international mentors with board experience .
The journey culminates with a board simulation ,which allows the delegates to apply the knowledge and learning gained in a safe space.
The 2024 programme will be offered virtually with the Graduation & board simulation offered in Hybrid mode at Columbia Global Centers, Paris.
The Group Mentoring Programme
The WOBN Group Board Mentoring program is designed to provide "next-generation" female directors the opportunity to develop as directors and to understand their unique value to boards and what it takes to get a board seat.
Participants will be guided and supported by experienced Board Directors, as well as, their peers who are also actively pursuing board opportunities.
The program KICK OFF is on 9th November 2023 and closes on 6th April 2024
_Applications close at 5 pm 29 September 2023
Successful Applicants will be notified via email by 6th October 2023_
Public Sector Board Mentoring Program
Our six months free Board mentoring program is designed to tap into the existing knowledge ,skills and experience of high performing board experts in the Public Sector and transfer these skills to WOBN members in order to advance their careers and interests in public boards.
This program is available exclusively to Registered up to date WOBN Members seeking guidance and support to develop a thoughtful approach to planning and achieving their career and board goals in the public sector.
The programme is currently ongoing and will close on 12 April 2023
Equine Leadership Immersion Programme
The Women on Boards Network is proud to announce their partnership with Serian and CHLOE Consultants (SA) to offer a unique, virtual, and transformative Equine Leadership Immersion program. From the comfort of their own homes or offices, registered participants will delve into the three-module leadership immersion, with two-hour sessions shedding light on authentic and efficacious leadership; notable transformation of the workplace setting, from paddock to boardroom; and, ultimately, application of the tools, skills, and key takeaways to transform themselves, the team culture in the boardroom, and beyond. Each session utilizes a cutting-edge, equine-oriented approach to education, whereby horses assist in facilitating natural human leadership and the development of emotional intelligence.
While navigating this journey of personal growth and discovery, members will learn to keep in touch with their inner, true selves, inclusive of their amassed values and convictions.
WOBN Ambassadors Board Mentoring Program
Our six months free board mentoring program (exclusive for the WOBN members) is designed to tap into the existing knowledge ,skills, and experience of our high performing brand ambassadors and transfer these skills to our members in order to advance their board careers.
The programme is available to individuals seeking guidance and support to develop a thoughtful approach to planning and achieving their career and board goals. You'll be carefully matched with a mentor as a group ,where you'll tailor a program to your specific needs.