WOBN invites leaders from different industries such as manufacturing, financial institutions, aviation, media, insurance companies, National and County Government to share their Board leadership experience with our members and visitors. Currently, the Board Talks are happening in the form of webinars.
BREAKFAST AND ROUND TABLE MEETING
Held once every 3 months, the objective of the breakfast and round-table meetings is to discuss recent trends in the corporate governance world. The event also provides a networking platform for our members.
This is an annual event with the objective to bring together key players from different sectors to discuss main trends in corporate governance and proactively brainstorm on Kenya's future in terms of corporate governance. The conference also provides our members with opportunities to network.
UNIQUELY YOU –
(A journey to SELF)
The WOBN Junior Membership Program invites you to a webinar:
Topic: UNIQUELY YOU – (A journey to SELF)
When: Saturday, 28th August 2021
Time: 9:30am to 11am
Speaker: Ms. Lucy Macridis -Director, ELEMCEE Consultancy.
Age bracket 13 years to 25 years old.
Register at: http://tiny.cc/JuniorMembershipWebinar
FREE WEBINAR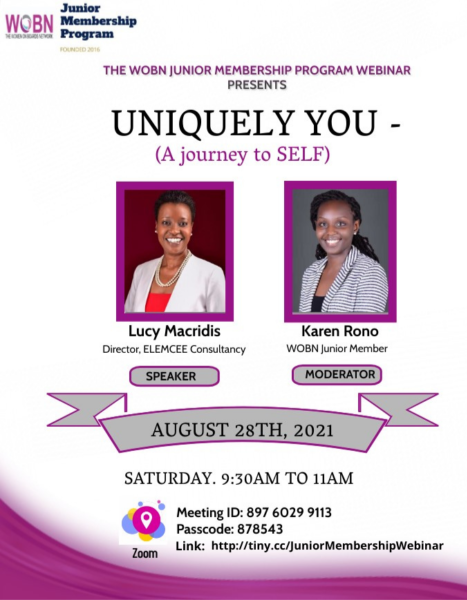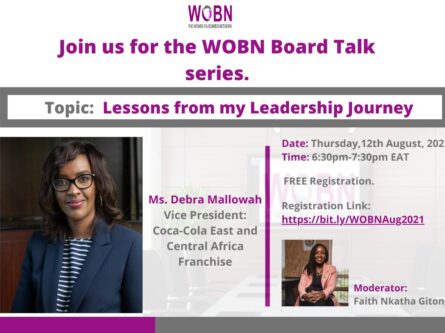 BOARD TALK SERIES:
Lessons from my Leadership Journey
Date: Thursday, 12th August, 2021
Time: 6:30pm – 7:30pm (EAT)
Guest speaker – Ms. Debra Mallowah, Vice President: Coca-Cola East and Central Africa Franchise
CORPORATE GOVERNANCE VIRTUAL TRAINING (SEPTEMBER 2021)
The Women on Boards Network invites you to join us for our upcoming Corporate Governance Virtual Training
When ~ 6th – 10th September, 2021
Place~ Zoom
The training covers diverse topics related to Board Leadership with an ultimate goal of ensuring that our members and participants are well prepared to join Board Leadership.
The training also helps the participants understand; Boardroom dynamics aimed to have a positive impact on the Boards they get to serve on both at the national and global levels.
The training provides a Board Simulation session for the member that allows them to experience a real Boardroom scenario.
The simulation incorporates Board members and provides a great opportunity for networking.
Click here to register.
Costs:
WOBN Members: Ksh 30,000
Non-WOBN Members: Ksh 35, 000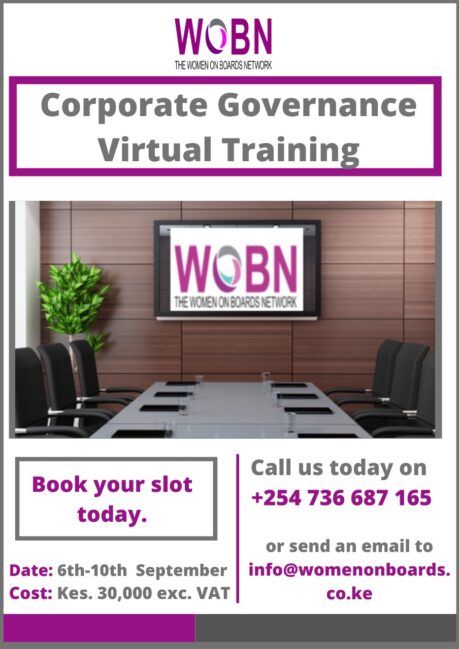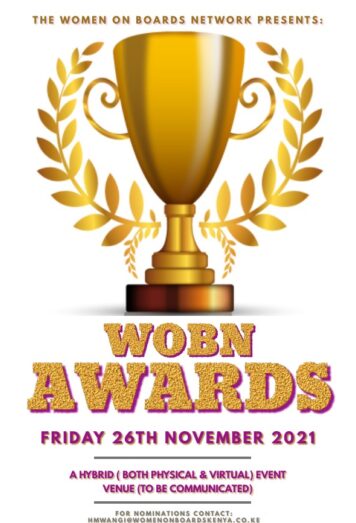 The WOBN Awards has been developed to help celebrate Gender Parity on Boards and recognize individuals and companies that have made significant contributions towards gender diversity on boards.
We hereby invite you to enter and also nominate individuals and companies for the various categories listed on the nomination form.
You are encouraged to use the awards as a driving-board to further your accomplishments.
There is no cost to submitting a nomination.
Before nominating, ensure you read the document in the form description. The document gives insight on each award, to help you make an informed nomination.
We are looking forward to receiving your nominations!
Click here to enter nominations.
WOBN Awards: Celebrating Gender Parity on Boards