WOBN Summer 2020 Columbia Global Centers Virtual Internships for Columbia University Students
The Women on Boards Network has had the pleasure of hosting two virtual Summer 2020 interns: Selena Tan and Carol Chen. They provided valuable contributions to our organization and forged collaborative connections with our team. Below is a summary of their internship experiences: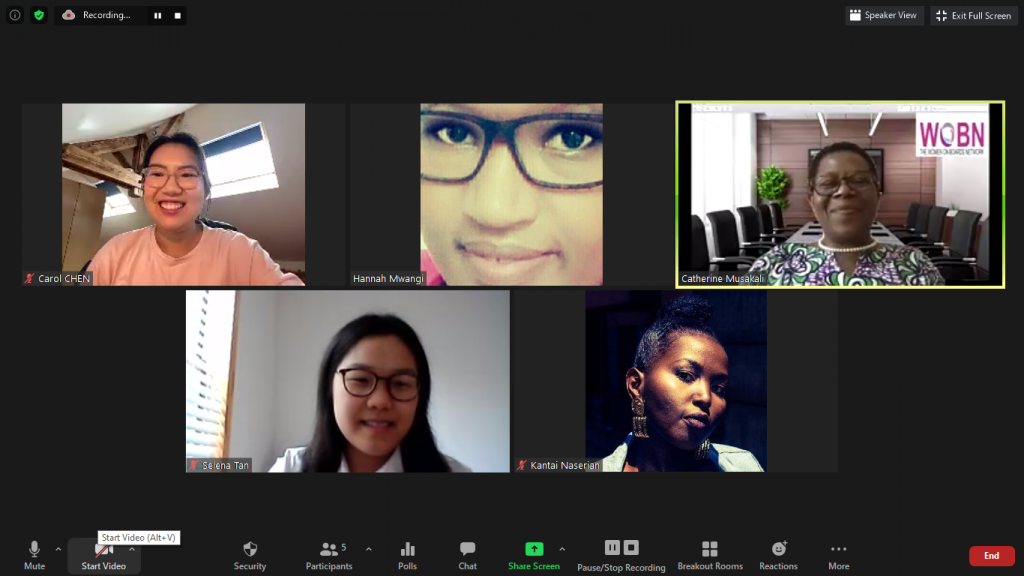 In our own words:
Carol: My internship experience at WOBN this summer has been extraordinarily rewarding! During this uncertain time when everyone is adapting to a new environment, WOBN has demonstrated its incredible ability to adapt and make our internship experience as interesting and fulfilling as possible. Throughout this summer, I have learned to create videos and manage YouTube content, write concise and compelling event summaries and articles, research and analyze project plans, and many other new skills. From these endeavours, I gained new insights into the operations of a non-profit organization, and challenged myself to not only understand but to try to innovate these practices. Even more importantly, I have forged strong relationships with my colleagues and fellow intern Selena, who have shown me the power of a great support network and effective teamwork. I will cherish both the knowledge and these relationships I have gained throughout this great experience and look forward to continuing my passion for women empowerment in all domains.
Selena: My Social Media and Digital Marketing Internship at WOBN was the first of its kind throughout my academic career. I certainly did not know what to expect from the virtual summer experience. Now, months later, I can confidently pronounce that WOBN fulfilled its roles as a supervisor and mentor. It provided a safe, productive environment for me to ask questions when I experienced uncertainty, raise concerns with assignments, and share my ideas for recapping or promoting events.
I was able to grow myself alongside the newly-established Junior Membership Instagram. My management role challenged me to generate fun, refreshing marketing posts and Instagram stories to engage my audience regularly. Other administrative tasks, such as drafting website articles and video transcriptions as well as collaborating with Carol on research assignments, greatly enhanced my written communication.
All in all, every moment spent on the expansion and promotion of WOBN's mission to prepare women who are seeking board positions and senior management roles has been worthwhile and will certainly be memorable for years to come!
Analytics/achievement:
Carol: During my three months tenure of managing WOBN's Twitter, LinkedIn and Youtube profiles, I have been excited and grateful to see tremendous growth in their user engagements.
For the WOBN LinkedIn page, one of our most active platforms, in 2 months, we have seen more than 300 new followers (1000%+ increase) and 10K post impressions (600%).
For Twitter (@WomenOnBoardsKe), we have seen 40 new followers.
On the WOBN YouTube Account, we have started from a relatively new YouTube account. Since then we have uploaded more than 10 webinar and event videos, garnering 165 subscribers and 1000 views in total.
Selena:
I am proud to have established and successfully managed my own business social media account! Despite its humble growth from 0 to about 45 followers in its first month, I am positive that the platform's content and mission will allow it to grow exponentially in the near future. It was not easy to post nearly daily, but I am proud to have not given up, despite my many, many struggles with lack of ideas or inspiration. I am also proud to have simultaneously worked on webinar transcriptions for the WOBN website and newsletters as well as advertisement posts for the Main Membership LinkedIn. Of course, I am pleased to have maintained positive team rapport with my fellow intern Carol, as well as my colleagues and supervisors at WOBN. My experience would certainly not have been as productive and fruitful without their constant oversight and input.
Conclusion:
We are both immensely grateful for the amount of support, encouragement, and feedback that WOBN has provided since Day 1. Every step of the journey, from the interviews to the induction ceremony and finally, to the closing ceremony, has imparted to us invaluable career and life lessons.
Despite our roles being remote, the busy WhatsApp group chat and frequent email exchanges facilitated the establishment of an impenetrable bond and efficient teamwork between the management team at WOBN and us. Of course, the weekly evaluation meetings were critical for bouncing off energy and ideas and served as sources of inspiration, motivation, and feedback for both parties.
We, alongside WOBN, have evolved significantly since the start of our internship in June 2020, and hope our efforts and results at WOBN will be as long-lasting as the values that the organization has instilled in us over the brief amount of time that we worked together.
Watch more of our internship experience here: https://www.youtube.com/watch?v=NOkt8gUyuCQ